October 31, 2016
Sent free to the Editorial Board of Referees and any other interested chemists who request it
To be added to or deleted from our circulation list, please use following links: Subscribe / Unsubscribe.
ARKIVOC is an international journal of organic chemistry completely free electronically world wide.
No downloading fees to readers and no page or other charges to authors.

Arkat USA, Inc. is a non profit foundation existing to help chemists throughout the world with special emphasis on international cooperation and developing countries.
Arkivoc manuscript activity / Traffic at arkat-usa.org
MS in Hand Oct 1st, 2016: 72. Received 21; Published 3; Rejected 12. In Hand End of Oct 78;
Manuscripts in Hand Jan 1st, 2016: 65; Received 387; Published 110; Rejected 263.
Access hits, October: 684,281 from 105,447 visitors;
2016 to date: 5,787,704 from 887,923 visitors.
New style Arkivoc papers

A revised set of 'Instructions to Authors' has been posted, www.arkat-usa.org Arkivoc journal page. We ask authors just starting to prepare manuscripts for submission to use the new style. However, we will accept manuscripts prepared in the old style that are almost ready for submission, but all manuscripts submitted after January 1 must be in the new style.

You are invited to take a look at the new style that has been adopted for the papers appearing in the commemorative issues in the 2017 volume of Arkivoc. These are dedicated to Professors Mlochowski and Rakitin www.arkat-usa.org

Graphical Abstracts
of Manuscripts Published in Arkivoc During October 2016
Arkivoc 2016 Part (v): General Papers
A facile, metal-free, oxidative coupling of new 6-(hetero)aryl-[1,2,5]-oxadiazolo[3,4-b]pyrazines with pyrroles, indoles and carbazoles (16-9828DP) [pp. 279-300]
Yuriy A. Kvashnin, Nikita A. Kazin, Egor V. Verbitskiy, Tatyana S. Svalova, Alla V. Ivanova, Alisa N. Kozitsina, Pavel A. Slepukhin, Gennady L. Rusinov, Oleg N. Chupakhin and Valery N. Charushin
Full Text: PDF (1,047K)
Supplementary Material: PDF (2,717K)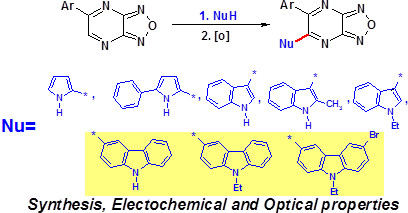 Arkivoc 2017 Part (ii): A Commemorative Issue in Honor of Prof. Jacek Młochowski
P-C bond formation in reactions of Morita-Baylis-Hillman adducts with phosphorus nucleophiles (MJ-9787UR) [pp. 324-344]
Michał Talma and Artur Mucha
Full Text: PDF (655K)


Molecular engineering of liquid crystalline derivatives of 6-oxoverdazyl (MJ-9800UP) [pp. 345-368]
Piotr Kaszynski, Marcin Jasiński, Sylwia Ciastek, Szymon Kapuscinski and Krzysztof Gebicki
Full Text: PDF (2,090K)


Individual Issues of Arkivoc
No issues were completed during October 2016.
The following issues were closed during October 2016:

2016 Part (i): Special Issue 'Reviews and Accounts'

The following new issues were initiated during October 2016:

2017 Part (i): Special Issue 'Reviews and Accounts'

To Announce and Advertise in the Arkivoc Newsletter or on the website

For details of opportunities to advertise in this newsletter or on www.arkat-usa.org, please contact Eric Scriven - efvs1@aol.com


Future Conferences

The 17th International Conference on Heterocycles in Bioorganic Chemistry will be held in Galway, Ireland, 28 to 31 May 2017.
http://www.conference.ie


The 26th International Society of Heterocyclic Chemistry Congress will be held in Regensburg, Germany, 3 to 8 September 2017.


The 18th Florida Heterocyclic and Synthetic Conference (FloHet-2018) will take place at the University of Florida, Gainesville, 4 to 7 March 2018.


New Members
of the Arkivoc Editorial Board of Referees
Dr Amer Hajjawi
United States
email